Submitted by helmsman on Sat, 04/22/2017 - 09:36
Heroic sailor risks life diving 40ft off cargo ship to save whale tangled in fishing net
Rachel Bishop 21 APR 2017
The crew member hurled himself off the high deck on the Cheikh El Mokrani tanker ship and into the freezing sea below to free huge animal
An heroic sailor risked his life diving off the side of a cargo ship to save a whale that had got stuck in a fishing net.
The crew of the Cheikh El Mokrani tanker spotted the large mammal writhing around in the water, desperately trying to get free.
Submitted by helmsman on Fri, 04/21/2017 - 10:01
Chinese bulker collides with coast guard vessel off Guangzhou
Jason Jiang 20 April 2017 http://splash247.com/chinese-bulker-collides-coast-guard-vessel-off-guan...
Bulk carrier Yue Dian 57 has collided with a coast guard vessel while it was departing Guangzhou Port yesterday.
The collision has led to the sinking of the coast guard vessel, resulting in all the eight of the coast guard crew going into water.
The Guangzhou Maritime Rescue Center sent a team and coordinated nearby fishing vessels to join rescue operations and managed to save the eight coast guard crew members.
Submitted by helmsman on Fri, 04/21/2017 - 09:47
Investigation after death on ore carrier
Taylar Amonini 20 April 2017 https://thewest.com.au/news/pilbara/investigation-after-death-on-ore-car...
A filipino man was found deceased on a bulk iron ore carrier this month after a workplace incident.
WA Police, with the assistance of the Australian Marine Safety Authority, are currently investigating an incident which occurred April 9 at anchorage in Port Hedland.
It is understood that the man was involved in a 10 metre fall after losing his footing while working on the ship.
Submitted by helmsman on Fri, 04/21/2017 - 09:36
Swift Acting Crews Reduce Asian Pirate Attacks
20 April 2017 http://www.maritime-executive.com/article/swift-acting-crews-reduce-asia...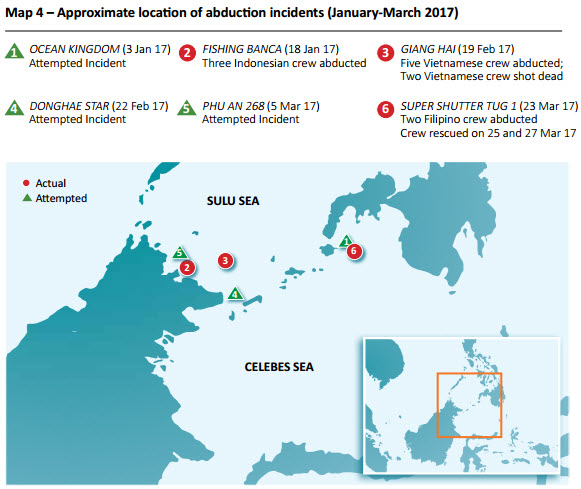 The number of piracy incidents in Asia has dropped in the first quarter this year, compared to the same period in 2016, and ReCAAP ISC praises the swift action of crews and responding military forces.
Submitted by helmsman on Fri, 04/21/2017 - 09:32
Guv pushes for registration of bancas amid terror threat
JUDY F. PARTLOW, 18 April 2017 http://www.visayandailystar.com/2017/April/18/negor1.htm
Negros Oriental Gov. Roel Degamo is pushing for the holding of a mobile registration of motor bancas in the province by the Maritime Industry Authority, to help efforts in the anti-terror campaign.
Degamo said over the weekend that he has asked the Marina about this and the agency is set to conduct the mobile registration as early as this week.
Submitted by helmsman on Fri, 04/21/2017 - 09:29
Maritime Forum today at Marina central office
April 20, 2017 http://business.mb.com.ph/2017/04/20/maritime-forum-today-at-marina-cent...
The 121st Maritime Forum of Maritime League will be held starting at 7:45 a.m. today (April 21, 2017) at the central office of forum host – the Maritime Industry Authority (Marina- at Parkview Plaza, T. M. Kalaw St. corner Taft Ave., Ermita, Manila. League president and forum chairman Commo. Carlos L. Agustin AFP (ret.) will deliver the opening remarks, followed by a welcome address by Marina Administrator Marcial Q. C. Amaro III.3
Submitted by helmsman on Fri, 04/21/2017 - 07:41
Submitted by helmsman on Thu, 04/20/2017 - 17:31
North P&I urges owners to test crews to avoid accidents
Sam Chambers 20 April 2017 http://splash247.com/north-pi-urges-owners-test-crews-avoid-accidents/
In citing human error as the leading reason for ship accidents a P&I Club has suggested owners carry out continued evaluations of their crews.
North P&I Club is encouraging its shipowner members to consider the crew evaluation and benchmarking service offered by Seagull Maritime through an exclusive partnership between the two organisations.
Submitted by helmsman on Thu, 04/20/2017 - 08:53
Thousands of jobless seafarers unable to work on British ships, warns union
20 April 2017 http://www.morningstaronline.co.uk/a-2ea7-Thousands-of-jobless-seafarers...
JOBS on British-flagged ships are going to foreign workers despite there being thousands of officers out of work in this country, a study by seafarers' union Nautilus International found yesterday.
There had been a "significant decline" in the number of British officers in the shipping industry, said the union.
Submitted by helmsman on Thu, 04/20/2017 - 08:48
IMCA Engages In Seafarers' Wages Payment During Piracy At ILO Meetings
19/04/2017 http://www.hellenicshippingnews.com/imca-engages-in-seafarers-wages-paym...
The International Marine Contractors Association (IMCA) actively participated, on behalf of the Maritime Employers' Group, in the International Labour Organization (ILO) Working Group of the Special Tripartite Committee (STC), established under the Maritime Labour Convention (MLC) – the international treaty covering minimum working and living standards for seafarers.