Submitted by helmsman on Fri, 08/18/2017 - 06:24
The Shipping Giants Are Seizing the High Seas: Consolidation might be good for profit, but probably not for customers.
Chris Bryant 16 August 2017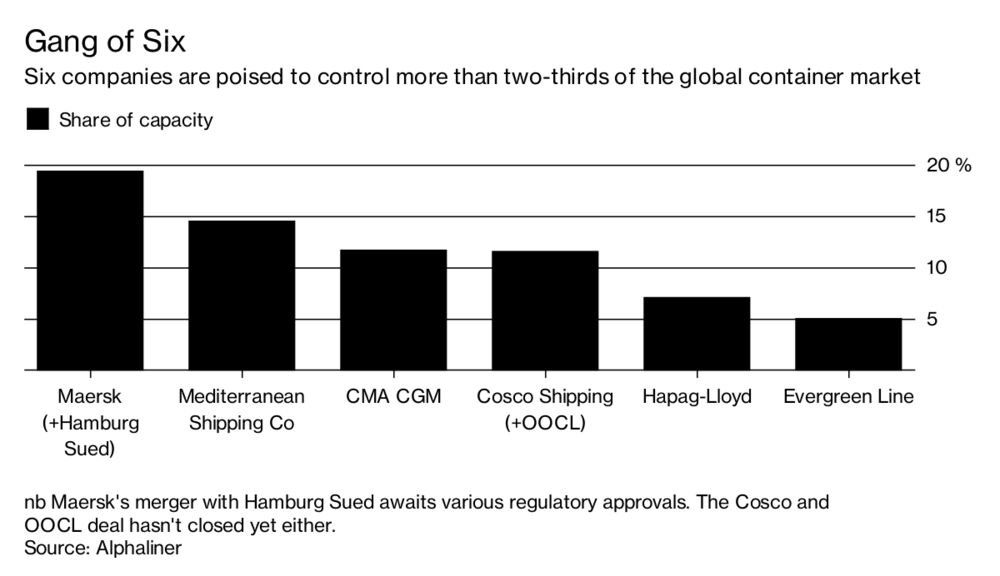 Don't be distracted by AP Moller-Maersk's unexpected second-quarter loss or the up to $300 million bill from a massive cyber-attack in June. Life's getting much easier for container shipping companies, though that's probably not great news for customers nor regulators.
Submitted by helmsman on Fri, 08/18/2017 - 06:17
Global Shipping Trends: China Cosco Buys Orient Overseas
Mercy A. Kuo August 16, 2017 http://thediplomat.com/2017/08/global-shipping-trends-china-cosco-buys-o...
Trans-Pacific View author Mercy Kuo regularly engages subject-matter experts, policy practitioners and strategic thinkers across the globe for their diverse insights into the U.S. Asia policy. This conversation with Basil M. Karatzas – CEO of Karatzas Marine Advisors & Co., a shipping finance advisory and ship-brokerage firm based in the New York City – is the 103rd in "The Trans-Pacific View Insight Series."
Submitted by helmsman on Thu, 08/17/2017 - 15:56
DOLE-NRCO, ISP launch 2017 Business Plan Competition in Pangasinan
Elsha Marie B. Soriano August 15, 2017 Elsha Marie B. Soriano http://pia.gov.ph/news/articles/2821501484596
ROSALES, Pangasinan August 15 (PIA) – The Department of Labor and Employment (DOLE) through the National Reintegration Center for OFW (NRCO), in partnership with the Integrated Seafarers of the Philippines (ISP) launched recently the 2017 Business Plan Competition for Overseas Filipino Workers (OFW) Seafarers in this town.
Submitted by helmsman on Thu, 08/17/2017 - 15:53
Malaviya Seven: At what price freedom?
17/08/2017 http://www.hellenicshippingnews.com/malaviya-seven-at-what-price-freedom/
Twelve Indian seafarers are closer to going home after a Scottish court has agreed to the sale of the Malaviya Seven, an India-owned and -flagged platform support vessel that has been detained in Aberdeen since June 2016.
The hearing, held on Thursday 10th August, is a step in the right direction for the vessel's Indian crew, some of whom have been onboard the ship for 16 months. But the ordeal is not over yet.
Submitted by helmsman on Thu, 08/17/2017 - 04:31
Submitted by helmsman on Thu, 08/17/2017 - 04:23
Cruise ship goes dark to avoid pirates: Some of the seven seas are still prone to pirate attacks.
Josh Lew August 16, 2017 https://www.mnn.com/family/protection-safety/stories/cruise-ship-goes-da...
The passengers who were on Princess Cruises' Sea Princess will probably always remember the start of their three-and-a-half month round-the-world cruise, but not for the reasons you might expect.
Submitted by helmsman on Thu, 08/17/2017 - 04:19
British ship's crew winched to safety after fertiliser cargo catches fire
Gerard Couzens Aug 16, 2017 http://www.express.co.uk/news/world/841873/British-ship-fire-evacuated-G...
COASTGUARD helicopters evacuated the 24 crew members of a British ship carrying burning fertilisers after a suspected fire broke out in a cargo hold off the holiday island of Gran Canaria.
They were winched to safety after a steep rise in the temperature level of the ammonium nitrate on board made it dangerous for the seafarers to remain because of the toxic gases released.
Submitted by helmsman on Thu, 08/17/2017 - 04:16
Cong. Sarmiento lauded for State of the Committee Address on transport issues
http://www.catanduanestribune.com/article/4070
(exccerpts)
Catanduanes' lone representative in Congress, Rep. Cesar Sarmiento, received congratulations from his fellow congressmen last week after delivering his first State of the Committee Address (SOCA) on various issues tackled by the Committee on Transportation which he chairs.
...
Submitted by helmsman on Wed, 08/16/2017 - 17:18
Maersk Says June Cyberattack Will Cost It up to $300 Million
Christian Wienberg August 16, 2017
A.P. Moller-Maersk A/S said a cyberattack that hit the owner of the world's biggest container shipping company at the end of June will wipe as much as $300 million off profits in the third quarter.
The announcement was made in connection with second-quarter earnings, which showed Maersk missed analyst estimates after taking a writedown at the tankers unit that's part of the energy business management has said it wants to get rid of.
Submitted by helmsman on Wed, 08/16/2017 - 11:38
Overseas Pinoy seaman shot dead by robbers
Erwin Beleo August 14, 2017
SAN JUAN, La Union – A 33-years-old overseas Filipino seaman was declared dead-on-the-spot after he was gunned down and robbed of US$100 inside his house in Barangay Duplas in this town at about 8:40 p.m. Sunday.
Senior Inspector Juanito Buaron, the chief of police, identified the fatality as Edgar Ursua, 33.
According to investigation, Ursua together with five housemates which include his wife was about to sleep when five armed men wearing bonnet mask forcedly entered the house.