Submitted by helmsman on Wed, 08/16/2017 - 11:34
Submitted by helmsman on Wed, 08/16/2017 - 11:28
Submitted by helmsman on Wed, 08/16/2017 - 11:23
The World's Shipping Companies Are Going Super-Sized
Kyunghee Park August 15, 2017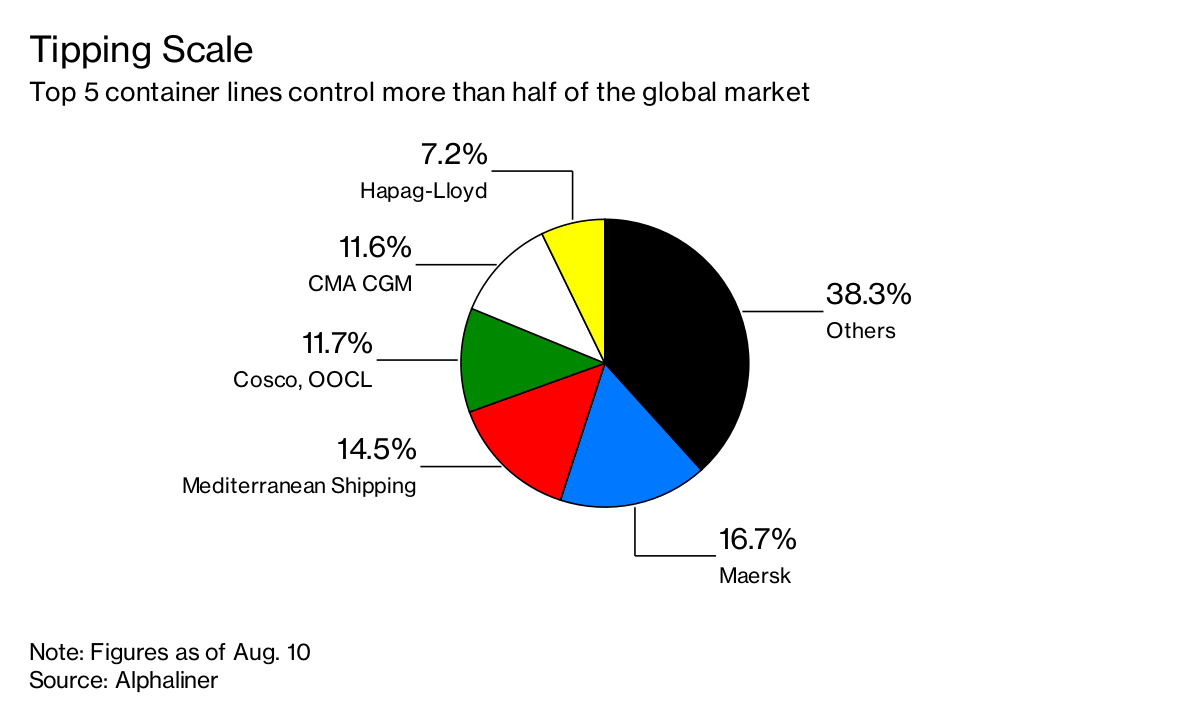 The hulking container ships that transport sneakers, bananas and barbie dolls around the world keep getting bigger. So are the companies that own them.
Submitted by helmsman on Tue, 08/15/2017 - 13:06
Submitted by helmsman on Tue, 08/15/2017 - 12:29
FMC's Doyle: Safeguards needed to prevent another Hanjin 'debacle'
http://www.americanshipper.com/main/news/fmcs-doyle-safeguards-needed-to...
"Looking back, things could have been done differently. Looking forward, things must be done differently," Federal Maritime Commissioner William Doyle said of the fallout from last year's bankruptcy of South Korean container carrier Hanjin Shipping.
Submitted by helmsman on Tue, 08/15/2017 - 12:25
World Maritime Academy launches in Dauin, Negros Oriental
August 14, 2017 Jennifer C. Tilos http://pia.gov.ph/news/articles/1111501747496
DAUIN, Negros Oriental, August 14 (PIA) -- A new maritime school supported by the Technical Education and Skills Development Authority (TESDA) will soon open in Negros Oriental to help move more students into the maritime industry.
Submitted by helmsman on Tue, 08/15/2017 - 12:18
Submitted by helmsman on Tue, 08/15/2017 - 12:14
Disruption is Coming to the Shipping Industry
Frank Coles 2017-08-13 https://maritime-executive.com/editorials/disruption-is-coming-to-the-sh...
As I sit at my desk, I find myself shaking my head asking myself why so many in maritime do not "get it." I can only conclude that while people happily read about impending transformation of our industry, they do so in the misguided belief it will only affect others – and that they somehow remain insulated.
Submitted by helmsman on Mon, 08/14/2017 - 23:04
Cebu now has a Vessel Traffic Management System
Michelle Joy L. Padayhag 12 August 2017 http://cebudailynews.inquirer.net/143118/cebu-now-vessel-traffic-managem...
On the night of Aug. 16, 2013, MV St. Thomas Aquinas of 2Go Shipping Lines collided with Sulpicio Express Siete of Philippine Span Asia Carrier Corp (PSACC) at Lauis Ledge in Talisay City.
MV St. Thomas Aquinas sank, claiming the lives of 116 persons, with 21 others still missing to this day.
Submitted by helmsman on Mon, 08/14/2017 - 22:55