Submitted by helmsman on Sun, 06/14/2015 - 20:54
Indonesian sailors victims of trafficking
Hans Nicholas Jong June 12 2015 http://www.thejakartapost.com/news/2015/06/12/indonesian-sailors-victims...
Thousands of Indonesians working on foreign vessels are suspected to be victims of human trafficking and slavery, an official says.
The Foreign Ministry's director for the protection of Indonesian nationals and entities abroad, Lalu Muhammad Iqbal, said that there were at least 12,000 Indonesian crew members on Taiwanese ships prone to being exploited.
Submitted by helmsman on Sun, 06/14/2015 - 14:17
Filipino women navigate male-dominated world of seafaring
Text and photos by Lucia P. Tangi 06/14/2015 http://www.abs-cbnnews.com/focus/06/14/15/filipino-women-navigate-male-d...


The image of an olive-skinned man or a "barako" who has "a girl in every port" usually comes to mind when one mentions the word seafarer. The stereotype stems from the dominance of men in the maritime industry since the country started its massive labor export in the 1970s.
Submitted by helmsman on Sun, 06/14/2015 - 08:48
Southeast Asian Piracy Continues Unabated
Kathryn Stone 2015-06-11 http://www.maritime-executive.com/article/southeast-asian-piracy-continu...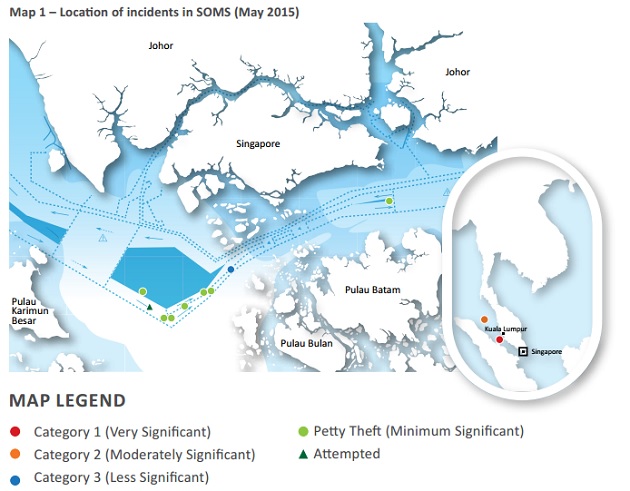 Image Courtesy of ReCAAP
The rise in piracy in Southeast Asia continues unabated, according to latest report by anti-piracy watchdog ReCAAP.
Submitted by helmsman on Sun, 06/14/2015 - 08:31
BIMCO Contributes to Piracy Status Report
June 11, 2015 http://www.marinelink.com/news/contributes-piracy-status392835.aspx
The Baltic and International Maritime Council (BIMCO) informs it has continued its support for the Oceans Beyond Piracy (OBP) "The State of Maritime Piracy" report, which addresses how piracy is affecting the shipping industry – and beyond.
Submitted by helmsman on Sun, 06/14/2015 - 08:26
AMSA GM Elected Chairman of MSC
2015-06-12 http://www.maritime-executive.com/article/amsa-gm-elected-chairman-of-msc
The Australian Maritime Safety Authority's (AMSA) Navigation Safety and International Relations General Manager Brad Groves has been elected as Chairman of the IMO Maritime Safety Committee (MSC) for 2016.
The election was conducted on June 11, 2015 during the 95th session of MSC at the IMO's headquarters in London. MSC is the senior technical body on safety-related matters, and the appointment is a major achievement in the maritime industry.
Submitted by helmsman on Sun, 06/14/2015 - 08:23
China to dominate global shipping by 2030, Shanghai report finds
Greg Knowler Jun 10, 2015 http://www.joc.com/maritime-news/china-dominate-global-shipping-2030-sha...
HONG KONG — Container throughput in China will reach 505 million 20-foot-equivalent units by 2030, three super container hub ports will be formed in Shanghai, Qingdao and Hong Kong, and Chinese firms will become global container terminal operators.
Submitted by helmsman on Sat, 06/13/2015 - 09:00
POEA cancels license of manning agency over placement fee
June 9, 2015 http://www.gmanetwork.com/news/story/501182/pinoyabroad/news/poea-cancel...
The Philippine Overseas Employment Administration (POEA) has cancelled the license of a local manning agency for collecting placement fees worth P30,000 and P60,000 from two jobseekers.
According to POEA, Mid-South Ship and Crew Management, Inc. collected the money from the victims and made them sign two-year employment contracts for a monthly salary of $250.
Submitted by helmsman on Sat, 06/13/2015 - 08:54
Egyptian navy rescues sinking cargo ship: Ship was sinking off the coast of Alexandria
12 Jun 2015 http://english.ahram.org.eg/NewsContent/1/64/132604/Egypt/Politics-/Egyp...
Egypt's naval forces rescued a sinking cargo ship off the coast of Alexandria, Al-Ahram Arabic news website reported.
The ship, named the Alex, which was sailing under the flag of Bolivia and coming from Lebanon, had sprung a leak four miles away from Alexandria's Mediterranean shores on its way to the main harbour.
Submitted by helmsman on Sat, 06/13/2015 - 08:51
Activists arrested after 6 hours suspended from Shell ship in drilling protest in Washington
Associated Press June 12, 2015 http://www.startribune.com/2-activists-attach-themselves-to-shell-ship-i...
BELLINGHAM, Wash. — Two activists spent about six hours Friday suspended from the anchor chain of a Royal Dutch Shell support ship docked north of Seattle to protest the petroleum giant's plans to drill for oil in the Arctic Ocean.
Submitted by helmsman on Fri, 06/12/2015 - 14:18
Vitaly Klyuev holds a speech followed by Q and A session in London
2015 June 10 http://portnews.ru/news/201209/
Vitaly Klyuev, the official Russian candidate for the IMO Secretary-General post held a speech followed by Q and A session in London on 9 June 2015, three weeks ahead of the elections.
The event was organized by the Embassy of the Russian Federation in London and the Russian IMO Permanent Representative.